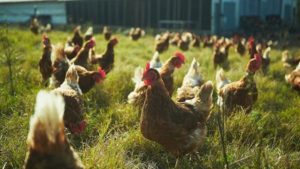 The Goodtime Pies Co. has some great news for our customers – whenever we use eggs in our recipes, they are now 100% certified Free-Range Eggs from Zeagold.
Free range hens have a better life as they are able to exhibit natural behaviours such as perching, scratching and nesting and they have access to the outdoors and covered areas to rest. We think a happy hen means a better egg and consequently a better pie.
When we were choosing our supplier of free-range eggs, we wanted to be sure that they were genuine free-range which is why we chose Zeagold. They are New Zealand's leading egg producer and were one of the first operations to have an approved Risk Management Processes (RMP), working closely with the NZFSA (New Zealand Food Safety Authority) now MPI.  A RMP  involves independent auditing of farms, feed mills and grading and packing centres by the Ministry of Primary Industries (MPI) verification services.  In addition, the company undertakes self-audits of all its operations to ensure that the standards and procedures they have set are being fully complied with, throughout the egg production chain as well as being independently monitored and audited by MAF.
So, if you, like us believe hens should be free-range the next time you devour our Classic Kiwi Bacon and Egg Pie or our No 8 Bacon and Egg Pie you will be eating delicious free-range eggs.
We think using free range eggs is a step in the right direction.
/wp-content/uploads/2017/03/Goodtime-Pies-Logo-Red-1.png
0
0
Marise Gunderson
/wp-content/uploads/2017/03/Goodtime-Pies-Logo-Red-1.png
Marise Gunderson
2019-05-01 14:05:20
2019-05-01 14:05:20
The Goodtime Pie Co. is using Free-Range Eggs-that is something to crow about