We have good news for Vegan Pie lovers- we have just launched our new Hub Gourmet Vegan Pepper Mushroom Pie. It is made with portobello and button mushrooms, spinach, potato, and kumara, simmered in a rich peppery coconut cream sauce with a generous sprinkle of vegan cheddar cheese.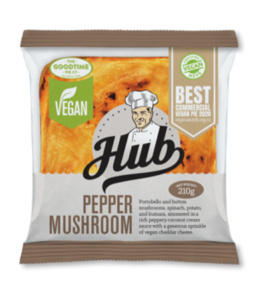 It's definitely delicious. In fact, it won Best Commercial Vegan Pie at the 2020 Vegan Pie Awards.
Our Hub Gourmet Vegan Pie and Café Roll Range are all vegan certified so you can be sure they are all free from any animal derived ingredients.
What's Involved In Gaining The Vegan Certification?
The Vegan Certified programme is administered by the NZ Vegetarian Society, in collaboration with the Vegan Society of Aotearoa NZ
The Vegan Certified trademark helps consumers to easily identify vegan products from reputable manufacturers. In order to be granted the verification we have to guarantee that all our Hub Gourmet Vegan Pies and Café Rolls are free from animal-derived ingredients.
The NZ Vegetarian Society Vegan Certified trademark cannot be displayed on any product that contains, consists of, or has been produced with the aid of products consisting of or created from, any part of a living or dead animal, or any substance that has originated from an animal.
In order to be eligible for the Vegan Certified trademark, we guarantee that no cross-contamination occurs between the vegan product and non-vegan products/ingredients during production. If the same production line is shared with non-vegan products/ ingredients, thorough cleaning must be carried out before vegan production commences. This extends to all associated machinery, equipment, utensils, surfaces and clothing, which must remain free from non- vegan products/ingredients before vegan products are touched, prepared, produced or packaged. Clear procedures must be in place to ensure correct packaging is used and errors do not occur.
Genetically modified ingredients or products containing genetically modified ingredients are not eligible to be licensed to carry the Vegan Certified trademark. (An exception is made for ingredients that contain genetically modified material at levels of less than 1% of that ingredient.)
To find out more about ingredient and nutritional information check out our PDF on the website.
The best place to find our Hub Gourmet Vegan Pepper Mushroom Pie is in the pie warmer at Z Energy or you can take a look at our Vegan stockists list in our What's Up section.
If you want to become a stockist, give us a call on 0800 466 384 or email yummy@goodtime.co.nz
https://goodtime.co.nz/wp-content/uploads/2021/11/Hub-Vegan-Pepper-Mushroom-1200-x-800-1.jpg
800
1200
Marise Gunderson
/wp-content/uploads/2017/03/Goodtime-Pies-Logo-Red-1.png
Marise Gunderson
2021-12-06 12:19:40
2021-11-23 12:25:00
New Hub Gourmet Vegan Pepper Mushroom Pie